Vegetable Kashiwa 1「Genmai Ouchi Gohan Anzu」
Plant-based in Kashiwa
Out of my personal experience, it can still be quite difficult to find especially vegan meals in Japan if you do not live in the center of Tokyo. From now on I will introduce restaurants in Kashiwa that offer plant-based options (vegan or vegetarian).


Do you know Genmai Ouchi Gohan Anzu?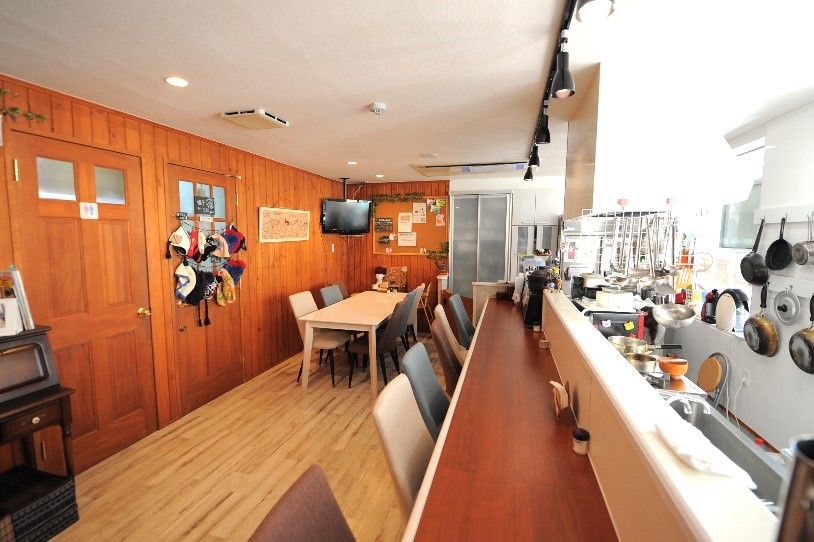 If not, then you should check it out. Being the first entry, I will introduce this cute and small place called Genmai Ouchi Gohan Anzu, or "玄米おうちごはん杏" in Japanese, meaning something like Brown Rice Homemade Food Anzu (Anzu being the owner's name). Located directly next to Kashiwa station it only takes 2-3 minutes to get there after exiting the automatic ticket gate. The entrance may be a bit hard to find at first but during business hours a sign is kindly placed outside. Leaving the elevator on the 4th floor, you enter a brightly lit hallway. To the right is Genmai Ouchi Gohan Anzu's entrance, impossible to miss from this point. The place itself is a light room with a natural wooden interior. A long counter and a big white table create breathing space and make you feel like stepping into someone's dining room. You immediately feel the personal and homely atmosphere. Taking a seat at the counter offers the best opportunity to indulge in conversation with the restaurant owner Anzu.
A place of personality
Anzu is a trained dietician and years of working in gastronomy allow her to produce foremost delicious as well as healthy meals, vegan and non-vegan. During the meal, she serves you a smooth organic tea. The taste may differ from day to day and depends on her preference. If you would rather like to enjoy an alcoholic beverage, you can choose between organic wine, beer, Japanese sake and others.
Eat all of them
As delicious homemade vegan meals, she offers a vegan curry and a vegan ramen, available
for only ¥1000 each. After that, you can enjoy one of her homemade vegan desserts,
mainly vegan muffins or tofu cake. It is also possible she comes up with something
completely different for the day. Get surprised.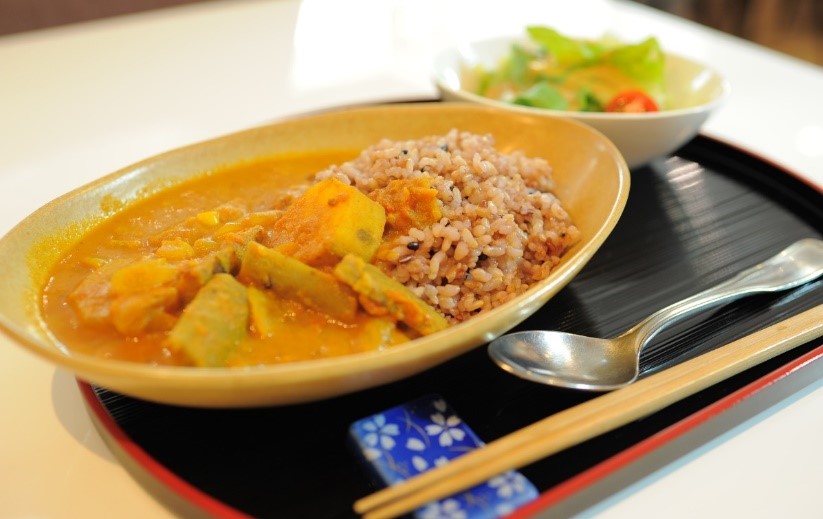 The vegan curry is made from an organic coconut milk base with a combination of different spices. Even though it has a rich spicy taste, that does not mean it is spicy-hot. I would recommend it for anyone's taste. The curry contains a lot of seasonal vegetables, organically grown near Narita and is served with brown rice and a fresh side salad covered in a perfect amount of delicious sweet dressing. She will even offer you a bigger portion of rice for free.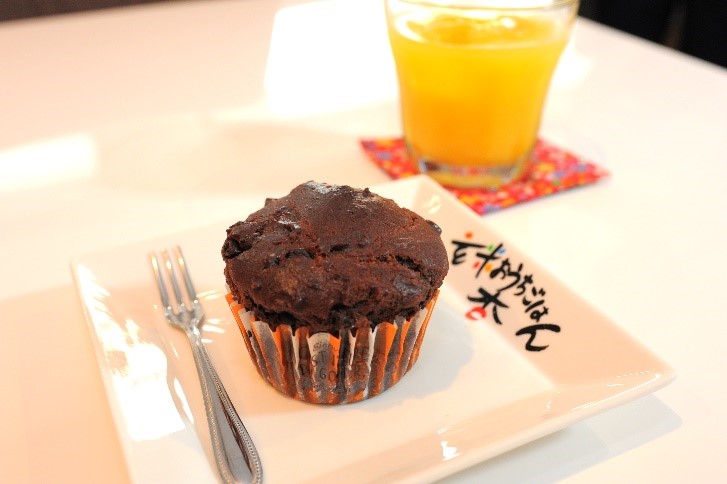 For a dessert, Anzu recommends one of her fluffy vegan muffins, based on a recipe from her mother. The dough does not contain regular white sugar, but organic millet sugar and brown sugar from Okinawa instead.
Pleasure without a feeling of guilt. Available tastes may change depending on her mood at the time, but delicious every time. Most popular are her muffins with a mix of different fresh berries for an extra strong anti-aging effect while enjoying something sweet.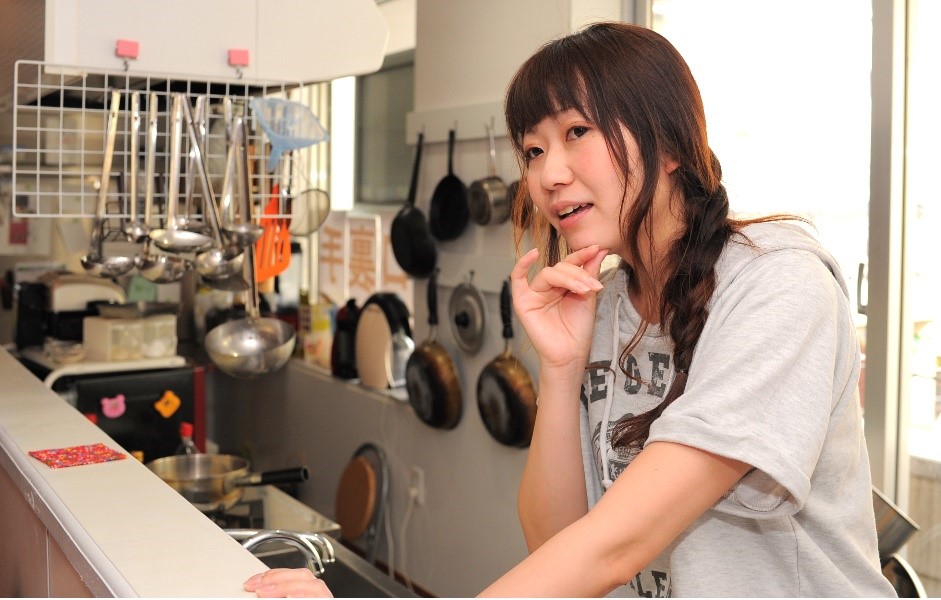 What comes next?
Talking about the future she told me about her desire to increase the variety of vegan meals, including the classic Chinese meal Mabo tofu and a possible roll cabbage. Coming back to her background on nutrition "I am still continuing to study about diet, so it is very well possible that in ten years I will have changed the entire image of this place. I try to create a place where I can offer the things I find are best for my customers," she says. Hearing this raises my expectations and going to Genmai Ouchi Gohan Anzu will always be full of surprises as to what kind of meals Anzu-san will create next.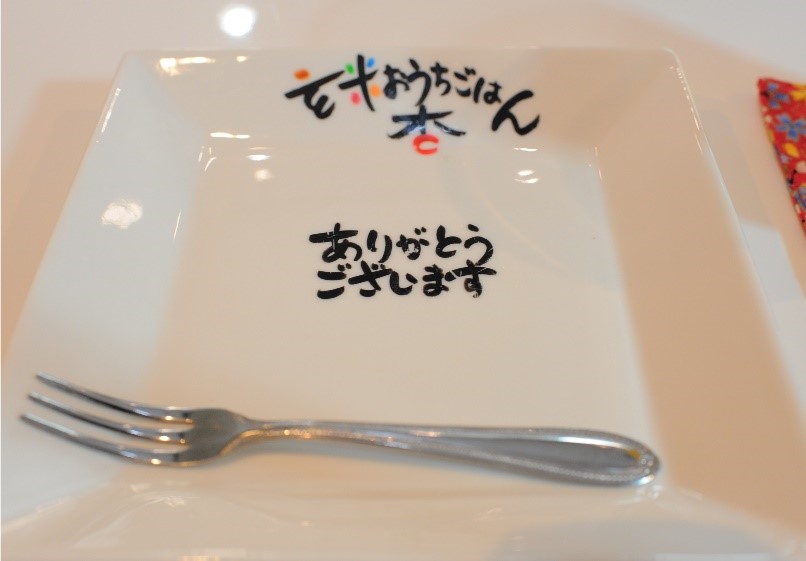 Even though people from Tokyo come to eat at her restaurant, she accounts only 10% of all orders as vegan, foreign customers being even more seldom. "Japanese people like trends from abroad. Having started with gluten free, I believe Japan will catch on with the vegan trend. Maybe in a year or so?" she tells me with a friendly
smile.
Stay around for more
I think if we want more plant-based alternatives in Japan, we must support the already existing ones. We must show them we care and that their efforts are highly appreciated. That being said, go and eat at Genmai Ouchi Gohan Anzu.
Vegetarian and vegan alternatives in Kashiwa may not be all too easy to find, but I will not stop looking and inform about the results in the next entry of Vegetable Kashiwa.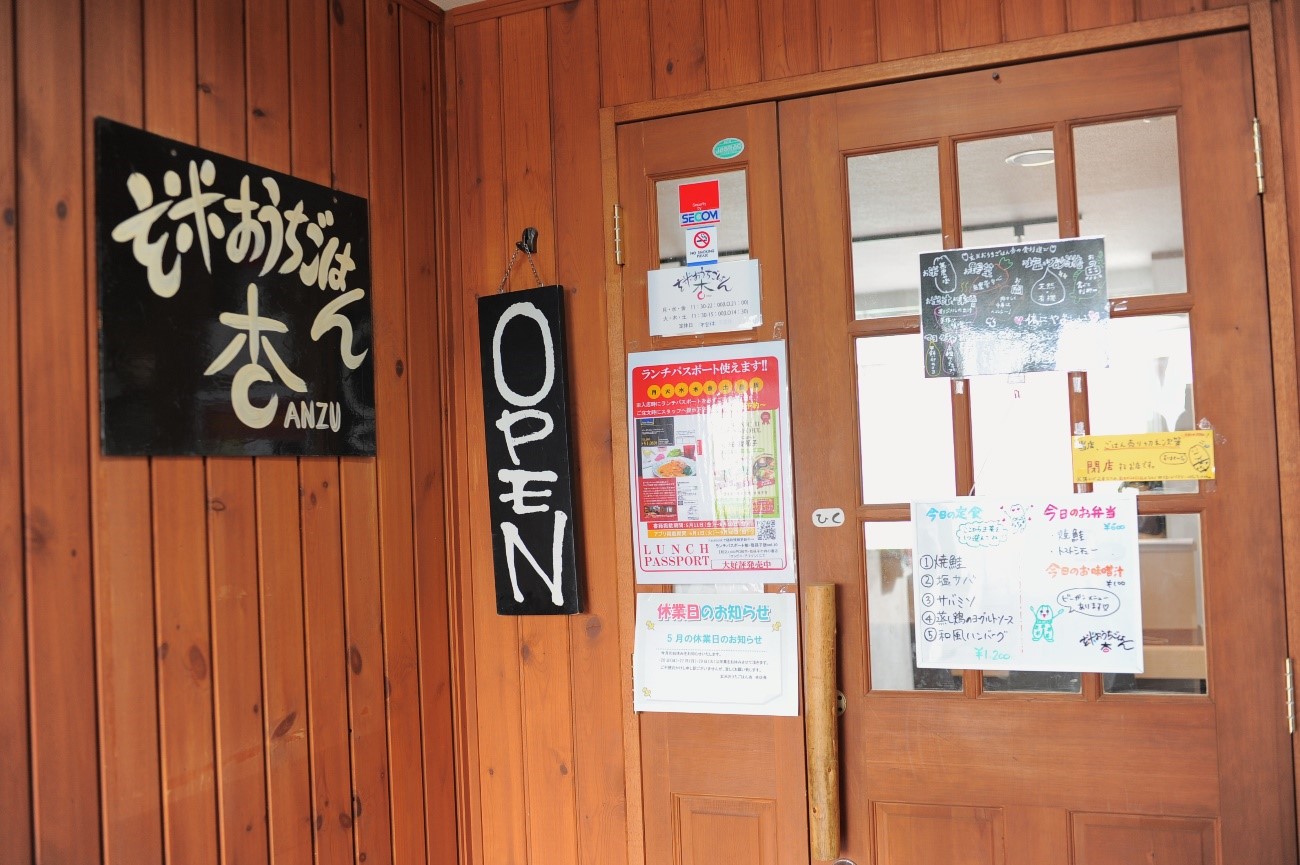 Entrance of Genmai Ouchi Gohan Anzu on the 4th floor
All the relevant information below:
Genmai Ouchi Gohan Anzu
Chiba prefecture, Kashiwa-City, Kashiwa 1-1-8 Kamaya Bldg. 401
☎ 04-7179-5031
【Business Hours】Tue・Thu・Sat・Sun 11:30-15:00
Mon・Wed・Fri 11:30-22:00
【Regular Holiday】Not fixed (check homepage)
http://genmai-anzu.info/
by Malte Detjens   Photo by Kei Kodama
カシベジ1 玄米おうちごはん杏
駅からすぐの「玄米おうちごはん杏」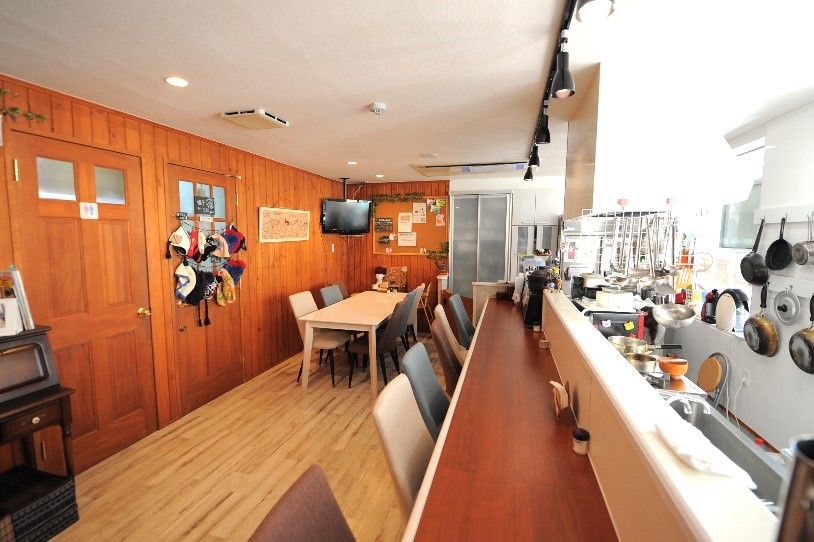 第一回目"カシベジ"はアットホーム感いっぱいの玄米おうちごはん杏です。
柏駅の隣にあって、南口を出てから徒歩で2-3分しかかかりません。お店の入り口は少しわかりにくいですが、営業時間内は置いてある看板が目印になります。エレベーターを4階で降りると、入り口はすぐ。店内はナチュラルな木製インテリア、とてもリラックスできる雰囲気です。奥まで続く長いカウンターと白いテーブルが一つ。小さいお店ですが、開放感があります。カウンターに座るとポジティブなオーラのオーナー杏さんとのお話が楽しめます。
個性がいっぱいのお店
杏さんは栄養士、調理師、フードスペシャリスト、アンチエイジングプランナー、アロマコーディネーターとして活動しているため、さまざまなことに詳しく、お料理とお飲み物、そしてお話も素敵です。メニューはヴィーガン料理とノンヴィーガン定食、日替わりヴィーガンデザートと気まぐれオーガニック紅茶やお酒もご用意しています。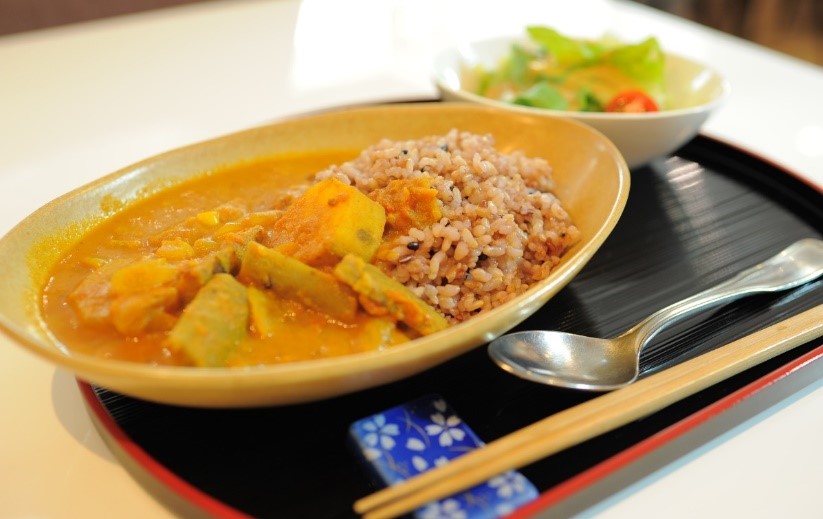 ¥1000ヴィーガンカレー
すべて食べてみてください
自家製のヴィーガン料理は二種類です。クリーミーなココナッツミルクベースのカレーライスと濃厚で香り豊かなスープが特徴のラーメンです。今回はヴィーガンカレーを作っていただきました。スパイス豊富な味ですが、辛くではありませんのでとても食べやすいです。国産のオーガニック季節野菜がたっぷり入っていて、ヴィーガンなら絶対嬉しいはず。ご飯はもちろん玄米、大盛りは無料で頼めます。フレッシュなサイドサラダも付いてきます。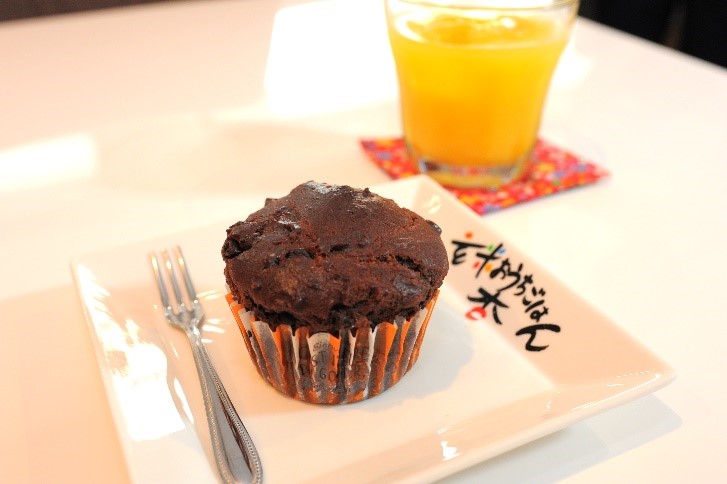 デザートも100%ヴィーガン向けで、マフィンと豆腐ケーキがあります。ランチメニューにプラス300円で、好きなデザートと日替わりドリンクがついたデザートセットにすることができます。
今後について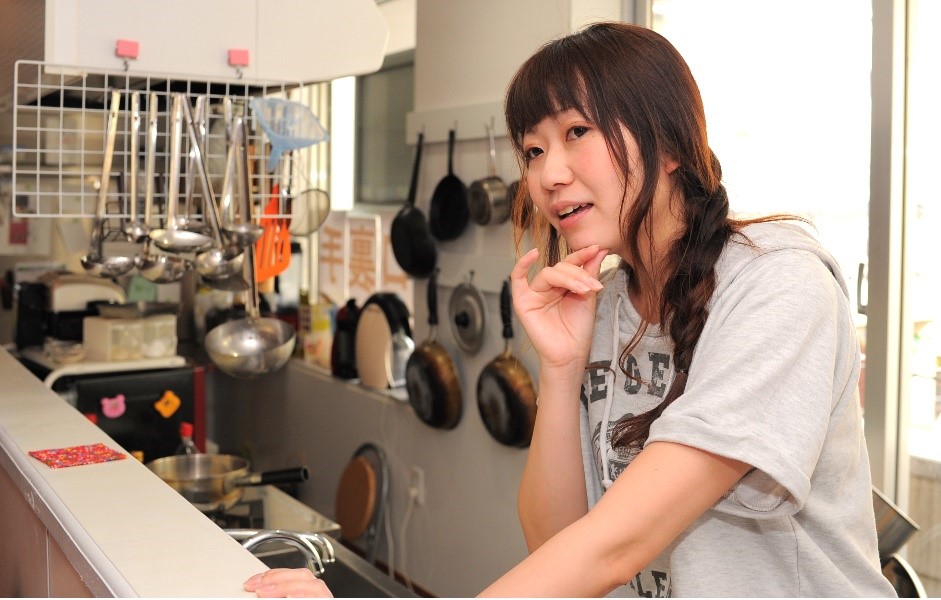 "今でも栄養学と※食について※勉強し続けているので、もしかしたら10年後全く違うお店になっているかも。自分がいいと思うものを出せるお店を目指しています。" 杏さんはお客様の健康を第一に考えて、これからもヴィーガン料理を増やそうとしています。ヴィーガン麻婆豆腐とロールキャベツ、ヴィーガン定食を考えているそうです。杏さんの話を聞いて、必ずまた玄米おうちごはん杏に来たいと思いました。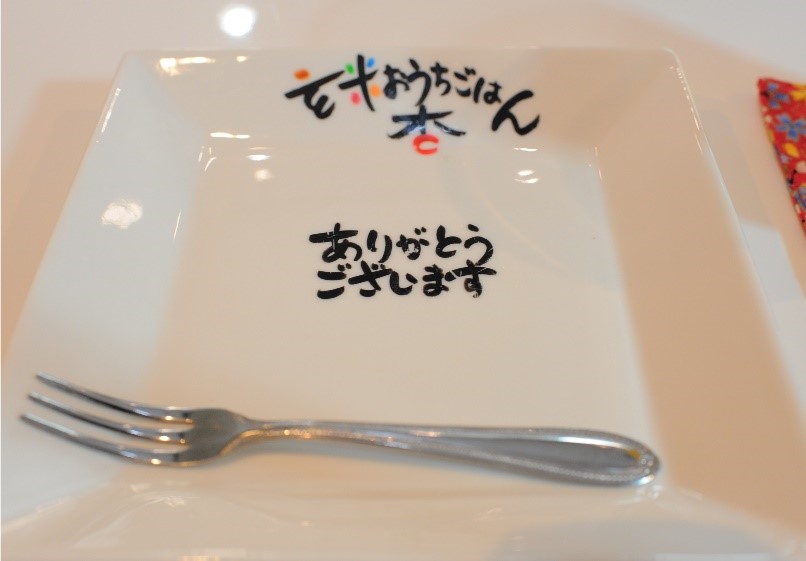 インスタグラムのようなSNSを通して杏さんのお店を知り、わざわざ都内から来るお客様も珍しくないそうです。しかし、ヴィーガン料理を食べるために来るお客様はまだ1割程度だそうです。"日本人は流行りものが好き。海外の流行を取り入れるのも好きなので、グルテンフリーブームに次いで、ヴィーガンがくると思っています。あと一年くらいかな?"と杏さんはコメントしました。ベジタリアンとヴィーガンの皆さんはぜひこの素敵なお店を応援してほしいと思います。
次のカシベジはどこですか?
次のカシベジはまだ決まっていませんが、柏のベジタリアンとヴィーガンが楽しめるお店をご紹介します。お楽しみに!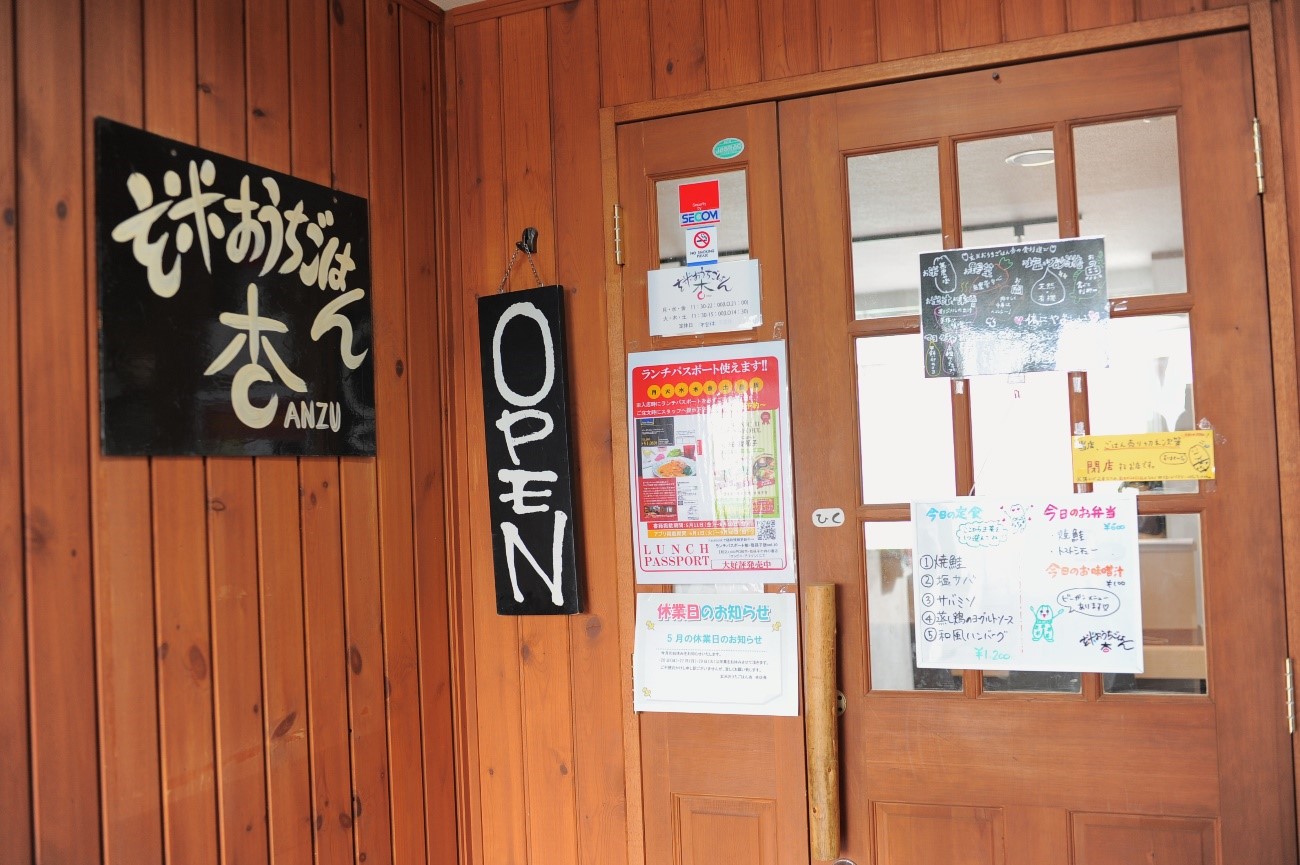 お店の入り口。4階でエレベーターを降りてすぐ右。
以下、お店の基本情報です。
玄米おうちごはん杏(ゲンマイオウチゴハンアンズ)
千葉県柏市柏1-1-8かまやビル401
【営業時間】火・木・土・日 11:30-15:00
    月・水・金 11:30-22:00
【定休日】不定休(ホームページ確認)
取材・執筆:マルテ・デットジェンス  撮影:児玉 啓